The Corniest Lines In the World…Ever!
Whether we've been dumped or we've done the dumping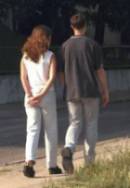 ourselves we have all fallen victim to referring to the corniest break-up lines ever possible…I'm sure of it! I don't know why people use them, as the chances are the last person who dumped you used the exact same lines. Or if not I guarantee that you will at some point in your life hear those same lines again. Most people usually use a number of the phrases but attach them all together to form a "Corny Speech"!
So hear they are…The lines that made it to the top of the list. Read and remember!

The Classics Section
It's the Classics Section so the chances are these will be pretty familiar to you. These are the cheekiest of the cheesiness of lines
ever said!
No. 5 - "We've grown apart"
No. 4 - "I'm not really ready for any commitment"
No. 3 - "I need some space (aka "I feel smothered")
No. 2 - "I don't want anything serious, I want to still be able to have fun"
And at No.1…ooh it's a cracker!!
"It's not you, it's me"
The " I'm Not Worthy" Section
Lines for the wimps. Instead of looking the bad guy you can pretend you are the good guy. Somehow when saying these lines you feel like the nice person who is helping out the victim!
No. 5 - "You are too nice for me"
No. 4 - "I'm not being fair to you"
No. 3 - "You're to good for me"
No. 2 - "I don't deserve someone like you"
No.1 - "You deserve so much better than me"

They Just Can't Be Bothered Basically
They don't want to be horrible to you, but its too much effort to be nice so they're telling you they can't be bothered instead!
No. 5 – " I don't have the energy for commitment right now"
No. 4 – "I'm just too busy with my coursework to be seeing anyone right now"
No. 3 – "This is more work than fun for me"
No. 2 – "I don't want a serious relationship until I'm older"
And…wait for it…
No. 1 - "I'm not looking for anything serious right now"
Don't even say it…
We are all guilty of saying those horrible clichés that are spouted out to people during their break-up; thinking that'll make them feel better. Most of the time it ends up as advice which is more harmful than good.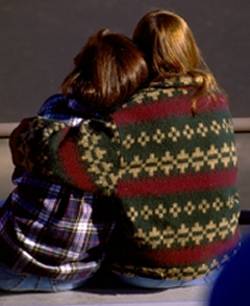 Believe me, speaking from experience, they can be more irritating than consoling. When sitting in front of your mum, friend or ex-boyfriend who is trying to let you down gently, and listening to all of this jargon, you just feel like punching them when they say these things!
Anyway here are the most popular phrases which are quite often said because people don't know what else to say to you, so instead they resort to the tried, tested and reasonably true remarks.
1. "Time heals all wounds"
2. "It wasn't meant to be"
3. "There are other fish in the sea"
4. "Things always work out for the best"
5. "Someone better is just around the corner"
When we have a broken heart it really doesn't make it any easier to deal with knowing that we will "get over it in time"! Its like they've forgotten what it is like to be crushed. Don't they ever think that if it was as simple as just to forget about them, then we would?
Next time you're about to use a cliché, think if it is at all appropriate. Think about what you would want to hear instead of blurting out a combination of clichés to your friend. You might be able to come up with some sound advice that will help your friend instead of risking the chance of a black eye!
If you want to tell us your dumping stories then get in the forums or e-mail editor@pupiline.net.
Check Out
Click to Read:
- Vick