It's time to pucker up!
tips for your lips.
K i s s i n g G u i d e

As one lurrrrve guru once said: "Kisses blown are kisses wasted, kisses aren't kisses unless they're tasted" – and who am I to argue?
Well, whether you're a bit nervous about that first kiss with the girl or guy of your dreams, or just want to improve your tonguing technique – read our guide to Snogging….
M o v i n g i n . . . .
Hmmm, this is the most difficult stage of a good kiss – which is weird 'cos there won't actually have been any physical contact yet, but that doesn't make it any less difficult to judge exactly when to move in and kiss someone.

Yeah yeah, I know it sounds corny – but you have to look out for one of those "magic moments" – maybe

when you've had close intense eye-contact without a break, or when you simply see that "look in their eyes"

and you just know that a snog is imminent….
D o n ' t b u m p h e a d s ! . . . .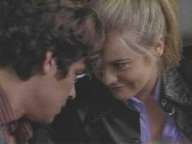 This is all pretty natural stuff, but it's best to tilt your head to the side slightly when you get close (otherwise you'll bump heads which will just completely spoil the mood) and hopefully your partner will do the same – so you can both kiss comfortably.
Whatever you do, don't open your eyes! Trust me, this will totally ruin everything and will either a) make you both laugh like mad, or b) weird you partner out - so keep those eyes closed until the kiss is finished ok?
H e r e w e g o . . . .
Ok, the most basic type of kiss is a kind of slow, circular motion.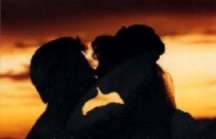 Place your lips over your partner's and open your mouth slightly (as though you're about to drink from a cup). When you make contact, pucker your lips and then pull away but make sure that you keep lip contact so that it's a long continuous motion.
This might sound really obvious, but breath through your nose and take your time…. there is nothing worse than a horrible rushed snog to leave you feeling like you shouldn't have bothered.
H a n d C r a f t . . . .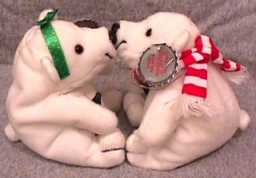 "But where do I put my hands?" I hear you nervously cry - well how about running your fingers through your partner's hair or lightly massaging their scalp with your fingers?
Real romeo's might cup or caress their lover's face in their hands, or place their hands on their partners cheek and glide it back into their hair....smooth.
You can also caress your lover's back, arms, neck, shoulders, cheeks or simply just hold hands - but don't get too intimate too soon!

A l t e r n a t i v e T e c h n i q u e s
So you think a normal kiss is a bit boring huh? Well how about these alternative methods of expressing your devotion....
The Eskimo Rub - the way those furry, icy guys greet each other. Take a break from the smooching and just sort of gently rub your nose against your partner's. You should probably use this sparingly though (maybe followed by a smile) otherwise the apple of your eye might think you're a bit odd.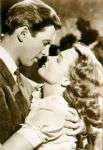 The Eyelash Tickle - (a girls only technique) is also cute in a childish kind of way. When your faces are pressed together, give em' a flutter - it'll remind him of how beautiful your eyes are!
The Cheek Rub - If you need another breather (gotta inhale that oxygen!) then this is an easy move which feels great. Just gently rub your cheek against your lover's, close your eyes and feel their smoooooth skin.
The Tongue Teaser - where you just run your tongue lightly across their lips... no! don't just lick your partners face!
The Lip Bite - gently nip and nibble your beau's lips, preferably thier lower one. It just reminds them that you can walk on the wild side if you know what I mean…
K I S S Y K I S S Y !
Click to Read:
Guide to Getting Over Being Dumped – Includes 2 part - 5 step guide on what to do, top ten's of music and films to listen and watch, corny break-up lines and annoying your ex.
- Eddy Vista