How to know whether someone likes you and how to deal with it! (Part 1)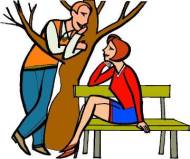 Knowing someone likes you is not as easy as some of us think. Different people let others know they're interested in different ways. You might notice someone spending a lot of time with the person they like, or perhaps they flirt with them without realising. Some people go the whole way and get their mates to tell their crush they like them, or if you're feeling very confident you might decide to ask someone out to their face.
The problem is, most people, girls and boys alike, can make it very difficult to tell when they are interested, so take a look at our hints and tips to tell if someone likes you and how to deal with it.
HOW TO TELL…
WITH LADS:
However macho it might seem at the time, lads just can't help showing off in front of girls, so look out for some considerably dopey antics.
If you hear you name mentioned among a group of lads at school, the chances are they're teasing someone about liking you, so spot the red face in the crowd.
Any excuse is a good excuse to see the girl of his dreams for a lad in love, so next time he treks up three flights of stairs just to borrow a calculator you'll know why!
Whether you've been mates for years or only just met, if he likes you the conversation will definitely not be smooth, so listen out for some major stuttering and spluttering.
ARGH! Green eyed monster alert! If he sees you with another bloke, he's gonna be jealous because as far as he's concerned you're his. He'll either try to out do the other lad by flirting, or be moody for the rest of the day until he forgets and starts dreaming about you again!
However cool he manages to act, a lad with a major crush never seems to know what to do with his hands. He might stroke his chin, put his hands in his pockets, ruffle his hair or fiddle with his mobile, which are all signs that you make him seriously nervous because he likes you so much.
Ever caught him staring in your direction without seeming to realise the teacher is yelling at him to wake up?? It's a sure sign that he's interested, why else would he stare at your gorgeous face?
As well as staring, if he's smooth enough to try and talk to you he'll probably make eye contact as much as possible in the hope you notice him paying you huge amounts of attention.
If you're a lad looking for some hints on the complicated world of a girl with a crush, move onto part 2, or carry on to part 3 to find out how to deal with a crush.
Click to Read:
Guide to Getting Over Being Dumped – Includes 2 part - 5 step guide on what to do, top ten's of music and films to listen and watch, corny break-up lines and annoying your ex.
By Ant and Sarah