Introducing a New Boyfriend or Girlfriend to Your Parents
"I'm not going" he told me stubbornly, sinking lower in his chair.
"You promised!" I whined "They're not even that scary!"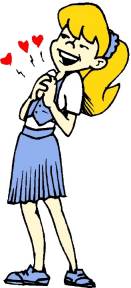 Sound familiar? Yep, it had come to that time when my parents had demanded to know who the mystery lad was that had stolen their precious little girl, and why he had made me speak of no one else for the past couple of months.
Unfortunately, my boyfriend was terrified by the prospect of meeting anyone from my family, and automatically assumed my parents would undertake an in-depth interrogation into his own life, and his intentions towards me.
After much protesting that he had promised, and reassurances that they would probably just say hello and leave us to it, he finally agreed, and everything went pretty smoothly.
To help the rest of you in the inevitable task of introducing your latest boyfriend or girlfriend to your parents, here's some tips from the team here at Pupiline...
Don't leave it too late - It's so much easier if your parents are involved early on. Think of all the 'who have you been with and what were you doing arguments' that won't happen. Your parents are only looking out for you, and introducing them to this person will help prove that you are safe.
Take it easy - Just because you want to introduce your bf or gf to your parents doesn't mean you're going to get married! Don't scare them, just explain that you would find it easier if your parents were involved in this part of your life.
Don't hide - Hiding the fact you have someone in your life that your parents should know about will only put a strain on your relationship, (think Flik and Joel in neighbours), which is definitely not what you want. Your parents have a right to know as they are responsible for you.
Embarrassing parents? - Some people get worried that their parents will totally show them up. Usually they're just joking when they say they will get the baby photos out, but just to make sure, you could make a deal - you'll do the introductions as long as they behave themselves ;)
The big day - When you have finally got your boyfriend or girlfriend to agree to a meeting, don't make things difficult by arranging something big. Taking them out for a 'meet the parents' dinner is a mistake, because if they seriously don't like each other, there's at least 3 courses of silence to endure. Just invite them round your house when your parents are around and get them to say hello, then you can do what you like.
Be natural - If you're introducing someone to your parents, you need to be relaxed yourself to put them at ease. Meeting someone's parents really isn't a big issue, so there's no need for anyone to worry.
What to say - All you need to do is this: "Hi Mum, hi Dad, this is ……………………… . We'll be in the garden if you need us." Its as simple as that!
Places to go - If you don't meet each other's parents, you'll be scared to go round each other's houses, which means at least two places you can cross off your things to do list!

So there you have it, all you need to know to make introducing your boyfriend or girlfriend to your parents a breeze. Good Luck!
Click to Read:
Guide to Getting Over Being Dumped – Includes 2 part - 5 step guide on what to do, top ten's of music and films to listen and watch, corny break-up lines and annoying your ex.
Sarah :o)