Pressures of sex….
So, have you "done" it? - chances are, if you're young, at school and surrounded by the media - you'll know exactly what I mean.- Who has and who hasn't had sex yet?
When you're a teenager, constantly with your mates - the pressures surrounding sex can seem massive and can come from all directions: peer pressure (pressure coming from the people you hang out with) media pressure or even pressure from your partner . Here are some examples:
Deciding to have sex because your friends think it's "cool".
Feeling pressured into sex from the person you're dating.
Giving in and having sex rather than trying to explain why not.
Seeing sex on the TV and wanting to give it a go.
Ok, I know what you're thinking - reading stuff like this can't just take the pressure off so what's the point? - but what it might help you to do is make your own decisions (rather than those of your friends) next time you feel pressured about sex.
The most important thing to remember firstly though, is that not everyone is doing it! If your friends are anything like mine were when I was at school, then talking about sex and what you done with your boyfriend/girlfriend last night (whether it was true or not!) was just another way of getting 'one up' over everybody else - unfortunately though, it was also a really good way of making others feel alienated and insecure.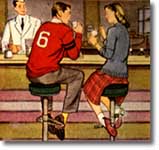 So what if you haven't had sex - it might seem like a massive concern to you, but have you looked at all the reasons not to do it?
For instance, you might be making plans to go to college or to start a job after you finish high school, so sex might be the last thing on your mind (and consider this: would a baby in your life make it easier or tougher for you to do the things you've always dreamed about?) There is also nothing wrong about being sexually cautious if you are worried about STI's (Read all about them HERE!)
You see, the first big step in handling sexual pressure is feeling happy with yourself and who you are. Despite what you or your friends think at the moment it is OK to want to just enjoy your teenage years without sex and it is OK to respect yourself and your personal or spiritual beliefs enough to say, "No, I'm not ready to have sex."
What You Can Do To Avoid Sexual Pressures: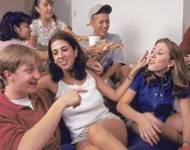 Hang out with friends who aren't bothered about sex.

Stick up for your friends if they are getting pressured into sex

Never feel obliged to pay someone back with sex in return for an expensive date or gift.

Remember that whatever you see on TV or in movies ISN'T a true reflection of reality. Fictional characters cannot get STI's or unwanted pregnancies but YOU CAN!

Think of ways you can answer people who pressure you about sex in advance. That way, you can feel confident that you'll have an assertive answer when you feel trapped in a corner.
Click to Read:
Guide to Getting Over Being Dumped – Includes 2 part - 5 step guide on what to do, top ten's of music and films to listen and watch, corny break-up lines and annoying your ex.
Related Links
- Eddy Vista