How To Use Help-Lines
Where do you go when you need help because you're worried or you need advice as what to do next? Well a good place to start is through a Help-Line.
What Is A Help-Line?
A help-line is a special number that many organisations have available. This is a service that gives telephone information and/or advice on a particular topic. Many help-line numbers begin with the prefix 0800 – which means that the number is free. Another common prefix is 0345 – these calls are always charged at local call rate wherever you are in the UK.
Types Of Help-Lines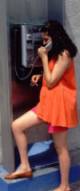 All help-lines provide a service to the caller. This may be:
Information on a particular subject.

Emotional support.

A list of other services e.g. in your area.
What Can You Expect From A Help-Line When You Call?
You should expect:
Your call to be answered within a reasonable time

The person should have a good all-round knowledge of the subject and be non-judgemental

Your call will be treated in the strictest of confidence.

They will also be supportive and help you through your worries, queries and problem
How To Stay Anonymous
If you'd prefer to stay anonymous when you talk to a telephone help-line there are steps you can take to protect your confidentiality. Problems arise because your phone bill at home may be itemised. This means that whoever pays the bill will be given a list of most calls that have been made.
Tips To Avoid This:
0800 numbers are free so they will not show up on the phone bill.

On mobile phones, 0800 numbers will not be free. They will therefore show up on the phone bill. REMEMBER – a call that you pay for (one that doesn't begin with 0800) will appear on your phone bill.
There Are Ways To Get Around this:
Don't Ever Be Put Of By Calling A Help-Line. Most Help-Lines Have Their Own Confidentiality Policies. They Will Take Care To Protect Your Privacy.
If You Are Still Worried About Phoning A Help-Line See If A Friend Will Do It For You Or Be With You When You Do Call.
Here is a list of different organisations that have help-lines available to us:
Brook Advisory Centres
The centres offer advice, counseling and medical help around sexual health, pregnancy, contraception, and abortion .

Website: www.brook.org.uk
Tel: 0800 0185 023
Family Planning Association
Information service for family planning and all aspects of sexual health.

Website: www.fpa.org.uk
Tel: 0171 837 4044
AIDS Helpline (National)
Tel: 0800 567123
Terence Higgins Trust
Website: www.tht.org.uk
Tel: 020 7242 1010
Remember!!! - Having sex under the age of 16 in the UK is illegal
For more information about What to do if you're pregnant or had Unprotected Sex click on:
- Vick