Tackling The Big Apple...A Diary of 5 Days in New York City...Part 1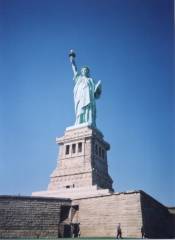 So this was it, 6 months of planning down the line, and I was there...well nearly! This was the trip I'd been waiting for my entire life and I was a mere 6 hours away from JFK airport, the major airport in New York. The airport you see in all the films...The airport to land in!! OK so by the time I'd got over the fact that I was landing in an amazing airport we had actually landed. My three friends and I had caught a yellow "taxicab" and were on our way to the 'Big Apple'!

DAY 1: Friday 5th October – Shopping in 5th Avenue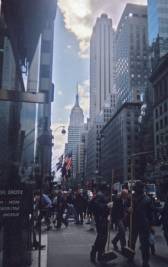 Oh yeah guys! This was New York. It is everything I'd imagined it to be and more. It felt like I had been dropped into the middle of a film set. The sky was bright blue and without a cloud. The yellow taxicabs were everywhere; the roads were packed with mad drivers beeping their horns at other mad drivers. The drains in the middle of the road were even pouring with smoke – just like the films. And within the first few hours we had coffee spilling out of our ears from all of the cafés. The first thing we had to do in New York, of course, was shop. Shop, shop, shop, shop, and then shop a little more until we did literally drop! 5Th Avenue being the first stop.
5th Avenue is the street to walk down when you wanna shop. But I'll warn you, if you want to shop here you'll need a fair few $1000. Its full of the Designer shops like Ralph Lauren, Gucci and Sisley, to name a few. Got that much money? No, me neither! So all I did was window shop, which is still nice to do (if you're a girl), and day dreamt of being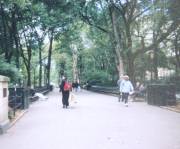 a part of the next big girl band where I'd earn millions of pounds and get to shop around here!…Well I can dream can't I? It was amazing to walk the length of 5th Avenue just to see all of the architecture. And a rather long length it is too. We walked from 23rd Street up to 69th Street, where Central Park starts. Central Park was our next stop after 5th Avenue. I kept expecting to bump into the 'Friends' crew but that wasn't the case. In fact everyone was pretty normal around here…so far! The Park was very peaceful with many people having lunch breaks or taking an afternoon off and just chilling. After we had a rest, and more coffee, we caught a taxicab back to our apartment to get ready for the evening out.
Greenwich Village seemed to be the place to go for the young at heart in the evenings. You are spoilt with amount of different restaurants you can choose from. Tonight we went for the traditional American food of a giant Hamburger and Chips. With that and a quick night's kip we were ready for day two.

DAY2: Saturday 6th October – Greenwich Village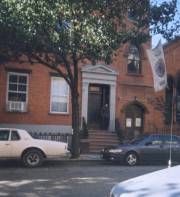 Another sunny day, and after a typical American breakfast served with, oh yes you've guessed it, coffee, we were off on our sightseeing trail. We all made a list of small places we wanted to visit and got into a taxicab to find our first destination. After the first day in New York, endlessly walking, we pretty much learnt to take a cab and get the driver to show us the direction. Having rushed in and out of cabs for the good part of the day we managed to see Central Library, Brooklyn Bridge, the outside of the Empire State Building and Soho. We then decided to return to Greenwich Village to see what it looked like during the day.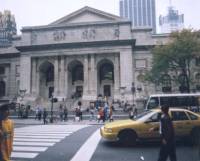 Greenwich is definitely the place to go if you want to buy things that none of you mates will ever be able to get there hands on. There are loads of little individual clothes shops where you could find a few bargains. There are also lots of boutiques where you could buy that perfect holiday pressie to give to your mum/dad/sis/bro/mate or whoever. Having found these shops we couldn't help resist to the shopping temptation. So, oh yes, we did our first bit of shopping for the day!Having grown quite fond of Greenwich Village, we decided to stay there again during the evening to feast and be merry!

Day3: Sunday 7th October – The Statue of Liberty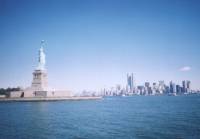 With not as much sleep as I'd have liked, it was up again for another American breakfast. At that point I realised that I could have quite got used to the whole city life style in New York! Another short ride down to the bottom of the city to catch the ferry rides out to the Statue of Liberty. This was to be our first proper tourist's day-out. The only way I can describe this experience is absolutely mind-blowing. The Statue was immense as she stood there glistening in the sun, all one hundred meters of her. A top tip, if you ever want to see the Statue of Liberty,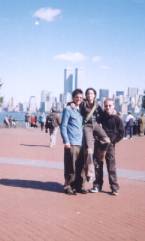 is to take a whole day out of your schedule to allow for it. It certainly took us a good part of a day to see it. You must allow for big queues especially if you decide to go on a Sunday. But once you get there and see the almighty thing, it is most definitely worth it. It wasn't just the statue that was amazing but the view of New York City you get when you are on the island. You can finally see all of the skyscrapers from a distance rather than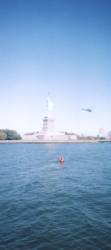 having to strain your neck to look up at them! After the Statue, we quickly remembered that no shopping purchases had been made the entire day…so shopping must be done. We decided to go for the tacky shopping experience and buy things from the tourist stalls. I bought myself the ultimate in tackiness, an 'I love N Y' T-shirt and mug…Well it had to be done didn't it!
Due to yesterday evening's late night shenanigans, we all opted for the typical American take-out – the pizza! – And any film that would be on TV. And oh
yes it was a good one, Ghostbusters followed by Ghostbusters II - double bill! We actually recognised some of the places in the film because it's set in New York. This was our first early-ish night, 1.00am, but sleep had to be done for the next days activities.
Day 4 & Day 5: The Empire State Building/Times Square...And Shopping
- Vick