SSX - Playstation 2 - £44.99 by Namco
Out Now
Thanks to the Sony Playstation, gaming has officially become "cool". Picking up a joypad is no longer the domain of pasty, spotty oiks who sit in their bedrooms all day with the curtains dra
wn - oh no, now it's perfectly fashionable to own a console….you know, just to like, kill some time.
Anyway, now that gaming has been accepted into the mass market, there's been loads of self consciously cool games hitting the shelves. Perhaps the coolest of all (sorry about this terrible link), was the Cool Boarders series on the PSOne, a game based around every fashionable trendsetters hobby - snow boarding.
Well I'm sorry, but cool though they might be, it didn't forgive the fact that the Cool Boarders games were all distinctly average and more crap than cool. But wait! can SSX, the first snowboarding game to hit the next-gen PS2, change all that?
Placing it's snow covered feet firmly on the "arcade" piste, SSX won't win any awards for realism - the courses are huge, gut-churning affairs, the characters are cartoony and full of attitude, there's power-ups, costumes and special short-cuts…. and the stunts you can pull off are so unbelievable - it's unreal.
To be honest, it's difficult to know where to start with SSX - but put simply, it's without doubt the first essential game to appear on the PS2.
The graphics and sound are gobsmacking, and quite unlike anything seen before on a home console. Fireworks erupt around you as you fly down the slopes, sn
ow drifts across in front of you, flood lights illuminate the action from every perceivable angle - and amazingly there's no slowdown, fogging or pop-up. The audio in SSX is also inspired; it's context sensitive depending on your performance, so if you're doing well then you'll hear the full audio track pumping through your TV…but if you're doing crap then all you'll be left with is the bassline and drums - cool .
The gameplay is intuitive, and very realistic and the different game-modes (a simple straightforward race or "show-off" mode - where you have to perform stunts to gain your points) offer two completely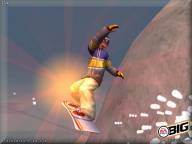 different ways of playing. The course design is really inventive and coupled with a harsh-but-fair learning curve, makes SSX a more addictive experience than salted peanuts
Ok, so some of the die-hard snowboard freaks out there might be put off with the over the top approach that SSX offers, but in my opinion this is what makes it so special - believe me, for sheer exhilarating thrills - SSX is the king of it's genre and makes crusty old Cool Boarders look very silly indeed.

5/5
- Eddy Vista