Part-Time Jobs From Hell...Our Stories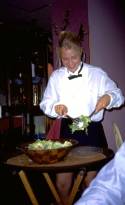 I've heard some pretty bad stories about people's experiences in the world of work and it's a shock to realise how badly many of us are treated. So here's my story to add to the list...
The summer holidays had just ended and I was strapped for cash. Then I saw an advert in my local newspaper for a job in a new restaurant. I decided to apply and was given the job of part time waitress.
Well, you can imagine how nervous I was, dressed in this black and white uniform and desperately trying to memorise a four page menu written totally in French. (I forgot to say this was a French restaurant, they weren't just playing a cruel joke on me!)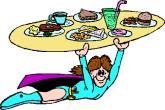 It was the shift from hell...I started at four p.m. set up the whole restaurant on my own, and I ran my own section of the restaurant. Please don't think I'm praising myself...I was terrible! But nobody would help me. Once all the customers had left, I had to close down the restaurant alone. I finished at 3 a.m, 11 hours after I had started with only one 15 minute break in between.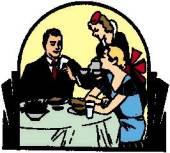 It was only after a few more shifts that I realised I seemed to do much more work than any of the other staff. I was the only girl and so I often found myself being looked down upon by the manager. His view was that cleaning up was "women's work"! I can tell you that restaurant work is HARD! You have to learn how to carry large amounts of steaming hot plates over to tables. And then you shout and shout at the customers "Who ordered the chicken? I have the chicken here, whose is it please?" while they all stare at you. For some reason people can never, ever remember what they ordered. Eventually someone will say "oh yes, chicken, maybe that was mine." It drives you mad!
I stuck with it for four months until, at the end of a very busy shift my manager sat me down and said "You're a good worker, for a girl. But could you make your skirt a little shorter. It's better for business." Well, I could have killed him. Instead I walked out...and wrote to his manager explaining what had happened. Amazingly my manager was sacked on the spot and I was offered my job back, with higher pay and equal rights. It goes to show that there is always someone higher than your boss, and sometimes it's best to take matters straight to them.
By Louise