Mock GCSE's
Millions of years ago, when dinosaurs still roamed the earth, and your Physics teacher had just evolved, some clever person came up with the concept of GCSE's. Unfortunately for those of us in our last year of high school, the idea was very popular, and the evil letters G, C, S and E invade our lives very frequently to this very day. To make us even happier, 'mock GCSE's' have also been devised, so if you haven't taken them yet, the bad news is, you will have to do so soon.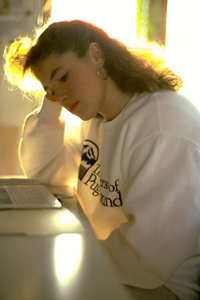 THE FACTS
You may think your mocks are not very important – WRONG!! The results you get in your mock exams will indicate which paper you will take, and your predicted grades for the real thing in June. Your acceptance to 6th form and college will also depend on your mocks (applications must be in by 2nd February by the way!), so you should be taking these exams very seriously.
OUR TIPS
Begin revising seriously about 2 or 3 weeks before the exams start, to avoid having to panic the night before! Similarly, don't start your revision programme too early because you will forget everything! Any work you do before that should be organising your notes and getting information from teachers.

Make yourself a revision timetable,

so that you have a structured plan that you can stick to, therefore making your studies easier to cope with. Plan to revise a couple and be tested on a couple of different subjects each day.

By writing your own notes, you will be revising as you write, and it makes the notes in your school books easier to digest. Make a list of key words, learn important dates, references and diagrams, and put information into bullet points, rather than long paragraphs to enable you to remember more.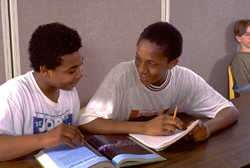 Swap your notes with your mates

in the same class as you. This will help both of you decide what you have missed in your own notes, and it helps to understand other people's interpretations of information. Test each other by picking out key words and references to aid revision.

Testing is the key to successful revision, so invest in a question and answer revision guide (available from WH Smith, Staples, Waterstones and other good bookshops). You could also ask your teacher for a past paper to help you practice good exam techniques.

Make sure you know exactly what you need to revise. In some subjects, especially science, you won't need to revise everything you have covered in the course so far, so ask your teacher to tell you what bits you do and don't need in your revision. Get them to check over the notes you have done to make sure you are on the right track.

If you're unsure about anything, you must ask your teacher – it's their job to keep you as a student informed. Language exams can be particularly complicated, so know what you're supposed to be doing before you get into the exam hall, rather than after.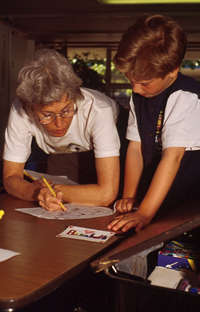 Know where you're sitting.

Most schools will have a quick practice before any major exams, so remember the person in front and behind you, and your candidate number, and you should be OK.

Bring everything you need.

Pack your bag the night before the exam after revising. Remember that you need a clear pencil case for every exam, a calculator for maths and science, a dictionary for language exams, anthology and texts for english and coloured pencils for technology exams. Getting organised the night before will ensure you are slightly more relaxed on the morning of the exam!

On the day, get to the exam hall early if you can so that you can get settled, or if you are on study leave use it wisely – not too little, not too much.

If you follow these guidelines the amount of revision you have to do in June will be far less, and if you do well in these exams it will give you the confidence boost you need to succeed in your final GCSE's.

GOOD LUCK! from

www.samlearning.co.uk
www.bbc.co.uk/revision
www.letts-education.com
Sarah :o)