The Wonder of Anime - Japanese Animation
The correct term for Japanese animation is "anime" (pronounced ah-knee-mae) not Manga, as the translated meaning for manga is comic. The reason why anime has become known as manga is because itís a brand name (the company Manga Entertainment who were the first to release anime in the west on a large scale.) Several years ago, this company started to release dubbed animated films from Japan in England. Several movies headlined the releases like Project A-KO, Dominion Tank Police (both of which arenít bad and worth a look if youíre over 15) but also the world famous "Akira" made by Streamline Pictures.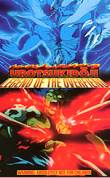 Unfortunately, among their releases was one infamous video title called "Legend of the Overfiend" which is very graphic, explicit and, quite frankly, has either very little plot and a meaning that's incredibly complicated. Because of this, Japanese animation has gained an unfair reputation for being cartoon pornography when the truth is in Japan the proportion of adult anime is extremely small compared to the normal stuff the Japanese kids see on their TV screens.
The Japanese treat animation in the same way that people in England and America treat films. Unfortunately in translation there are problems due to the strong story lines in most anime programs. Because of this, the translators often change and edit the story to make it mean something very different and (what they think is) more suitable for children. Take the Pokemon Movie the ending was changed because it didnít fit in with the edited story line.
I have personally been trying to get more anime series on TV but all the TV companies Iíve talked to said there wasnít a market for it. Although itís become a great success in the USA, the 'powers that be' in England, allegedly, donít want to follow the some track because itís not been a big enough success. An example of this is Hayao Miyazakiís animated movie "Mononoke Hime" (Princess Mononoke) that was dubbed and released in
America. When released in Japan, Mononoke Hime smashed all box office records for any movie previously released in Japan, making millions of pounds. However, when it was released in America it was a flop and a newspaper report in England said it was largely due to bad publicity and because of this the people in England will never this geat film in the cinema. I managed to fork out nearly £50 to get a copy imported from Japan and, even though I can't understand everything that's going on, it is an astounding movie and certainly deserves a chance in English cinemas.
If you want to see something closer to the original then I recommend you look for any anime that is subtitled (but do pay attention to the age guidance certificate)because, although itís likely to be edited, itís at least the original story line. Alternatively, you can try to learn Japanese and then buy the original videos!
By Cryler
All opinions expressed in this article is my sole opinion and is not that of this web site.