Internet Report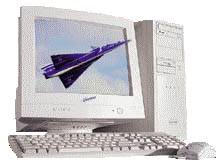 We're all using it all the time but do we really know about the internet? Go on, own up, do you really? Well if you're not clued up on a few things check out this report to fill you in.
The Internet is born, or is it?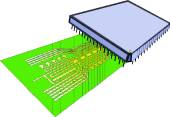 The first glimpse of the Internet was in the 1960's starting with the U.S Army making a computer communication network. The idea was that a certain amount of networked computers could keep running if one got damaged. They succeeded with this but called it the ARPANET. This was the first recorded version of possible worldwide communication other than the telephone.
Another so

urce of communication was formed, named NSFNET, for the U.S education system. The possibilities with NSFNET became clear when computer technicians found software could be used to expand its use. Eventually, NSFNET was scraped and replaced with a difficult to use Internet.
The Good bits and the Bad bits of e-mail!
The Internet is the most amazing way to communicate and place to display information but it does have its down sides. E-mail stands for electronic mail. This is a way to write to people through the Internet and a telephone line to another Internet computer.
Some people want to contact people and find out personal details about them. If you do reveal any personal details (e.g. address, telephone number, e-mail, school) you could receive hate mail, something that you find irritable or not very nice.
If you ever receive any mail you don't like speak to someone about it (e.g. parent/guardian, teacher) and get him or her to try and sort it out if possible.
But don't forget that you must be polite when you e-mail someone just if you were talking to him or her in real life. (Tip: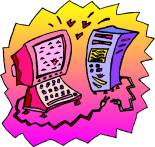 Don't use CAPITAL LETTERS or BOLD writing. It looks you are shouting! Of course if you mean to shout, go ahead!)
If you receive spam mail (adverts, competitions etc.) that you don't want, delete them or unsubsribe from their chain (They should say how to on the e-mail itself). If that is does not solve the problem contact your Internet Service Provider (ISP) for help.
CHAT!!!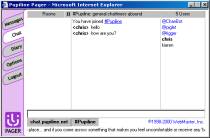 Chat Rooms and message boards are good ways to get new friends and meet new people worldwide. However there is an element of danger in this as some of the the time it can get bad and scary in chatrooms when people are communicating with you in ways that are not nice and you feel uncomfortable with. The easy way to steer clear of chat danger is to obviously not to use them, but an better way to keep chat safe and keep chatting is to;
follow that CHAT rules:-
C is for - Careful, people on-line may not be who they say they are

H is for - Hang on to your home/e-mail address, telephone number or school/college information.

A is for - Arranging to see people you've met on the Internet is dangerous. Only meet some off-line if you are sure that you know who they are, but still be with an adult when you meet up to be sure.

T is for Tell a fiend or an adult if you come across something you don't like.
Despite these rules, have fun when you are chatting to and meeting new people from all over the globe and exchange laughs!
Remember, be safe and have fun!
By Sameer