It's Getting Cold...Better Get a Hat, Gloves and a Scarf - Part 1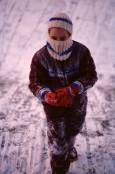 It's wintertime guys! It's about time for you to whip out your accessories to stop Jack Frost from attacking you this season. But what accessories do you need? Well I'm here to tell you exactly what we should be wearing this season in order to look god damn cool - but still keeping warm!
The low down on this winter's accessories is that the more you've got, the cooler you look and the warmer you're gonna feel.
We no longer have to go outside in the icy months
still modelling our short summer jacket to look cool. Oh no! We can now wear our big parkas with the fur hoods (check out the coat guide on our website) and team it up with a beanie, scarf and gloves! Don't go OTT though...make sure you buy either a set so that the colours match or stick to a similar colour scheme.

Get A Pair of Gloves!
You can't go wrong with gloves as most styles will be passable. There are two no-no's though,
Finger-less gloves are definitely not the thing anymore
Mittens are a bit too girlie and child-like now.
To get in with the real fashion we're gonna have to go for the real gloves…five fingers and everything! So what's popular?
Knitted and fleece, which are obviously both very warm to ye old mitts.

The fashionable style being stripy this winter.

The colours of each stripe should co-ordinate with each other.

Scarlet, lilac and mauve are a popular combination.

Blue, grey and charcoal are pretty damn cool too!

Wear the stripy gloves to jazz up a plain and neutral coloured coat.

Alternatively if you have a brightly coloured or patterned coat play it safe with plain coloured gloves.
Smoky greys, powder blues, lilacs and creams are a cool option.

Forget your standard blacks and greys, they're just too plain and boring.

Whatever your style make sure you team them up with other accessories.
Read what Scarves and Hats to wear this winter

Try out these High Street Must-Haves:
Quiksilver Plain Beanies - £9.99
O'Neil Fleece Hats - £15.99
Rip Curl Reversible Fleece/Knit Hat - £12.99



Roxy Quiksilver Stripy Scarves - £16.99

Rip Curl Gloves - £8.99

O'Neil Fleece Scarves - £17.99



Roxy Quiksilver Plain Accessory Sets - £16.99

Topman/Topshop Accessories - £4.99 - £15.99

River Island Stripy Accessory Sets - £21.99

Miss Selfridge Pattern Sets - £12.99

Miss Selfridge Stripy Sets - £11.99
- Vick