Pupiline's guide to get to grips with... The Driving Theory Test
What the hell is it?
Alertness
Attitude, Safety and Your Vehicle
Safety Margins
Hazard Awareness
Vulnerable Road Users
Other Types of Vehicle
Vehicle Handling
Motorway
Rules of the Road

Road and Trafiic Signs
Documents
Accidents
The test is now computer based

so you don't have to worry about filling in boxes on forms or forgetting your pencil. It really is sooo simple all you do is touch the screen or click with the mouse, on the answer you think is right in a multiple choice test.
To answer the questions you have 40 minutes and pass to, you need to get at least 30 out of 35 right. Example learners with special needs may be allowed double the time to complete the test, there is also the possibility to take it orally for people with severe reading difficulties or those who can't understand the any of the 7 languages it is written in.
Why do I need to do it?
The Theory Test emphasises that; safety on the roads is just as important to consider, when learning to drive, as handing the car itself.
The ability to 'read the road', as it were, is an incredibly valuable skill that can mark you out as a really good driver.
OK, but how will I 'know my stuff', for the test?
Probably the best way to prepare for the Theory Test is alongside your practical learning, as is 'brings alive' the kind of situations you'll be tested upon. There isn't a better way to know about something until you've actually done it yourself.
Also there are books available that help you in your preparation, such as 'Pass Your Theory Test' and 'Theory Test Questions' which are published by the British School of Motoring (BSM). Along with the Highway Code, these are actually a 'must have' because they have all you need know and nearly every example of the questions you will face in the test.
Additionally BSM offers, in their local centres, 'Theory Online', which

provides you the chance to take a 'mock' Theory Test on the new computer system, along with interactive challenges that test your hazard perception skills and your reactions to real life situations. You are told how well you did and are told the reasons why you got anything wrong. This is available free and exclusively to BSM learner drivers only.
Right I'm ready to take it, but what do I do now?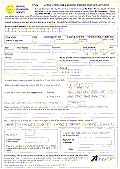 When you do feel that you're ready then you have to apply for the Theory test, by filling in a TT26 form which you can get from,
Theory & Practical Test Centres
Your Driving Instructor

, if he is approved
Or from the National Test Booking Line, where you can also book the test by debit or credit card, on 0870 01 01 372
There are theory test centres all over the UK, your driving instructor/driving school will inform you which is closest to you, so you know where to book for.
Tests are generally available (though some places may vary):
On Monday to Friday, from 9am to 5pm, and from 6pm to 9pm
So good luck with the Theory Test, you're nearly there, just the 'Big Boy' to come, the Practical Test,

just click to our guide to help you, we can't pass it for you but we can provide the essential tips you need.
Links To Check Out:
www.l-plates.net/learnerframe.html
by ChrisM