Driving Miss Eddy... A Quest to Learn to Drive
Let's be honest here, being a young person who can't drive is like being a bird without wings - you feel stuck, isolated and unable to go to the places you want to. But perhaps the worst thing about not being able to drive, is that you're constantly at the mercy of your parents for that all-important lift - honestly, if I had a pound for every time my mum or dad uttered that oh-so-witty-line, "We're not a taxi service you know!" I'd probably be able to afford a second-hand Fiesta.
Turning 17 then, was a B-I-G day for me, and there was no doubt that year about what my birthday present was going to be - driving lessons! But not however, until I'd learnt the basics from my old man….
So, on the 4th April 1997 me and my dear ol' dad travelled to a quiet bit of road, and I calmly (hah!) took to the driving seat for the first time. Suddenly, it was just me and the open road - freedom at last! (Well ok, my dad was sitting beside me and the road was a dead-end - but it
felt like freedom alright?) The problem with learning the basics with my dad though, is that he's completely car-bonkers, whereas I don't know the difference between a hubcap and a hand-brake - so he kept shouting all these weird instructions to me, not appreciating that I didn't understand a word he was saying - "Keep the revs high Ed…feel the clutch bite etc. etc." And when he told me to "use the choke" I was completely baffled, in fact to this day I still don't know why he wanted me to strangle him….

After three or four of these sessions, going up and down that little piece of road (and occasionally venturing out a little bit further!) I thought it was about time that I booked my first "proper" lessons with a driving instructor. Now, I'd heard loads of horror stories about driving instructors from my friends, so I was really worried about who I was going to meet when I had my first lesson. Was it going to be the short sighted guy with bad breath? Or maybe (even worse) the one who hit you with a stick every time you made a mistake?
I shouldn't have worried though. My driving instructor (who I learnt about from a friend of a friend) was possibly the nicest, most patient man I'd ever met. Seriously, I could've driven through the front of a butcher's window and he still would've kept calm!
I guess I had about 25 lessons in total, and gradually I could feel myself getting more and more confident behind the wheel. Driving around in busy traffic no longer seemed scary to me, I slowly learnt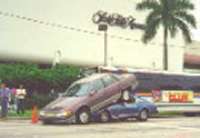 how to control the car, how to read the road signs and how to perform all those tricky manoeuvres like reversing around a corner or performing a three-point-turn (sorry to the ten or so people who had to queue up for five minutes while I done this - three-point turn? thirty-point turn more like…!).
Eventually though, after completing my theory test a few weeks beforehand (a multiple choice exam kinda thing - really easy if you've done your homework!), I was booked up for my driving test proper.
Amazingly, nerves somehow didn't get the better of me, and after what seemed like an eternity (in actual fact it was about forty minutes) in hard concentration with my every movement scrutinised, the test was over.
This was it, the moment of truth……..
"I am pleased to announce that you have passed" came the verdict from the examiner. And from that moment on - I was free, able to go wherever the wind took me, and (at last!) no longer reliant on my parents….a truly monumental day and no mistake.So then, mum and dad, who's the taxi service now then eh?…..erm, I can borrow your car can't I?
Changing Gears...Driving Diary
Driving School or Independent Instructor?
- Eddy Vista