What's Cool In Oz...6

One of the biggest things that's happened recently to do with Australia has been Aussie, Russell Crowe winning best actor at the Oscars for his part in Gladiator. Yay!..... If you haven't seen the movie yet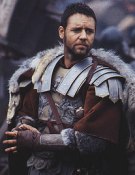 then where have you been?...it's an absolute must, it's one of the best movies I've ever seen.
Other big news, but a lot sadder, has been the death of one of the most famous Australians....ever, cricket legend, Sir Don Bradman. Bradman was rated the best cricketer of all time and was famous for having a batting average of 99.94.
Apart from those two big events there have been a few things that have come in fashion and out of fashion. Scooters have been in fashion for ages and teenagers are only now starting to get bored with them slightly. Except for now at least they're still pretty cool.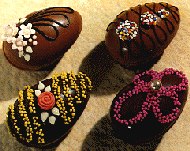 Apart from scooters, now that Autumn is starting in Oz and the weather is getting cooler, jeans are getting worn heaps. The most popular style is Loose-fit, which are very popular at the moment.
Now that Easter is coming up Easter eggs very popular! Everybody is eating them even before Easter has even begun! The footy season has started again recently and AFL is the most talked about sport in Australia at the moment...Go Melbourne!
Two of the most popular bands at the moment are Linkin Park and Limp Bizkit, mainly because of their songs, "One Step Closer" and "Rollin". Both bands, especially Limp Bizkit, have been popular for a while now and are at their peak now.
Here is the What's Hot and What's Not List
| | |
| --- | --- |
| What's Hot | What's Not |
| Holidays! | Tracksuit pants |
| Scooters (still) | Tight jeans |
| Loose fit jeans (for guys) | Yo-Yo's |
| Easter Eggs! | Short Shorts |
| Bands like Linkin Park & Limp Bizkit | |
| AFL footy | |
| Flexi-Fit Caps | |