Meeting the Band .... The D-Side Exclusive Interview Part 1
D-Side are Dane, Derek, Damian, Ryan and Shane the newest fresh-faced and funky boyband to come out of that hotbed of pop talent, Ireland. Their debut single Stronger Together is a rousing summer anthem, and hits the shops in Ireland in July, but not until later in the summer so this really is your first chance to meet the lads.
We went down to Edel Records on a sunny Mayday afternoon to get the lowdown on the popworld's latest discoveries.
The single was played to our approval and we quizzed the lads on how they would describe it to the pupiline community.
"Well we wouldn't say it's a ballad, ballad, it's more uplifting and it relates to a lot of different people on different things" explained Damian, who would later be described by his bandmates as the 'mother' of the band due to his skills in the kitchen in the home that they share together. Dane, the man who thought up the band's name, explained further that 'We wrote it ourselves and we want to write as much as possible, everyone sings on it. Plus with the world cup coming up, it's a perfect tune to play out over the end. It's so broad that's what we like about it"
Turning to whether they're working on the songs with any famous writers Shane, the group's co-founder and self-confessed 'sporty' of D-Side told us that D-side were working with two up and coming songwriters, Red Rhythm, who they wrote the single with. All the lads were keen to point out that there are no leaders in D-Side, no Gary Barlows or Ronan Keatings. Damian explained 'we have very different voices, there are a lot of different sounds, there's a rock sound as well, musically we have very different backgrounds'.
Asked about their influences, amongst them number Michael Jackson, traditional Irish, Blue, Westlife, N*Sync, S Club were all mentioned, D-Side like their boybands, particularly N*Sync. Derek explained "We like the progression of N*Sync, they started off very poppy and we aspire to be able to change over time, not being too severe at the start, we're not trying to clone ourselves off anything else, we're trying to be D-Side as an individual group something new. Our album is pop music, but it's refreshing pop music."
S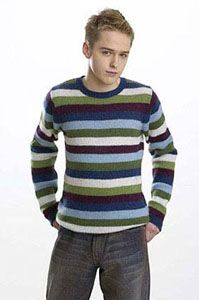 o there is an album in the pipeline as well. D-Side told us that it wasn't finished but they were helping to write it plus they play instruments on it. Ryan, who D-Side think is the ladies' fave, plays guitar on the track Everyday.
At live shows they actually sing, a good thing in the miming pop market and they guaranteed us that there's not a stool in site. They also played some Drug Awareness gigs, in conjunction with the Police, which pupiline thinks is a great thing. Damian told us "We get a great reaction anywhere we go because our show is very energetic and in your face. We try as best to be as wild as we can be. A friend of ours came to see a gig and said we are the same on the stage as we are off, there's no pretense we go on stage and do our thing." Asked about their Ideal tour line-up the boys name Liberty X, S Club, N*Sync, Westlife, Jackson 5 and they've already toured with Liberty X, Atomic Kitten and Daphne and Celeste, who we are told will be making a comeback sometime soon.
And as for the name Damian tells us ' We never had another name, we were texting each other all these names one night and Dane texted D-Side, I'm Damian, he's Dane and he's Derek and it worked... we also couldn't decided on a name.'
Go to www.dside.co.uk for more info and stay tuned for the second part of the exclusive D-Side interview where we delve into the boy

s favourite things, find about their habits, the house they all share and what they think of pupiline.