Pop News Update...11th July 2001
Hello, and welcome to the sixth Pupiline Pop News Update! I hope you enjoy it. In case you hadn't guessed from the title, my job is to inform you on all the latest goings on in the pop music world.
Pop Feuds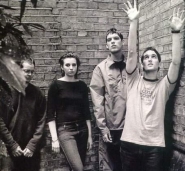 Pop stars just can't seem to stop arguing these days! Five and a1 were scheduled to share a dressing room at a Glasgow concert, but were quickly separated at their management teams' requests. Indie band, Ash has been having a bit of a go at Ronan, saying he "brings shame on the whole of Ireland!" Also, the much-publicised feud between Hear'say and Dane Bowers has really blown up this month. "I can't stand him!" said Kym, "I think the whole idea is a shambles!" replied Dane.
The Luck of the Irish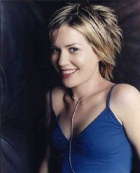 It seemed that the Irish pop stars were a lot more popular in America than the UK stars, as Westlife, Ronan Keating and Samantha Mumba headed stateside, but now it seems that some of our home-grown acts will be joining them. Travis and Dido are touring there, BBMak are topping the charts and Coldplay, Gorillaz and Craig David are up for a MTV Video Music Award - Lucky them!
Dance + Pop = Rock ?!?!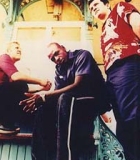 Fans of Boyzone and Phats And Small may or may not be interested to hear of Shane and Ben's return to the charts. Boyzone's Shane Lynch and Ben Afoedu, the old Phats and Small singer, have teamed up with a few more friends to become a rap-rock band called Red Hill. Well, if the songs do anything like as well as Shane's last single, I don't think this group will last long!
Young Christina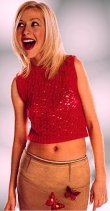 For such a young girl, Christina Aguilera has been singing for ages. Plans have been revealed to release a record Christina made aged five. Christina has given that company permission, but she has not given permission to a company who want to release an album she made aged fourteen, called Just Be Free. She recorded both in her basement studio, and they will probably only be released in America - thank goodness! She's bad enough now!
Geri Halliwell - Starnger Each Day!
Geri Halliwell has revealed that she names all of her gadgets. She has a Polaroid camera called Pauline and a camcorder named Colin! She also said that when she met Lionel Richie, out of all the things she could have done to show her appreciation, she made him a bracelet! She says that she keeps getting caught in the metal detector at the airport, because of her huge homegirl bracelets. Oh dear.
Freaky Facts
Usher once auditioned to be in Sister Sister, but was turned down because he froze up of nervousness. I have a feeling that would never happen these days. He seems to have plenty of confidence! When asked their view on Madonna, Suzanne Hear'say said, "As a kid, I dressed up in a polka dot tied shirt and danced around to Holiday!" and H Steps claimed, "I used to annoy my brother by vogueing around the house whenever the video came on, and I still do!"
8701 + My Way = Only £16
Usher's new album, 8701 is out this week, and if you buy it from Our Price or V Shop, which will cost you £12, you can get his debut album, My Way for just £4. So that's every song he's ever done for just £16. Is that a bargain or what?!
Pop Picks
Here are my pop picks for this fortnight.
Song: OPM - Heaven Is A Half Pint (A fun song for the summer)
New group: Lucy Street (3 girls with great songs)
TV Show: Party In The Park (Wasn't it good this year?)
Website: www.worldpop.com (My favourite web site in the history of the world!)
It's time for me to go now, but I'll be back in a fortnight with more of the latest pop news and gossip. If you can't wait that long, check out my personal pop music website, http://website.lineone.net/~poptastic.
Have a great day!
****Jessica ****