Alternative Zone
'**** Fred Durst, **** Fred Durst'... ok, ok, sorry for the language but its a nice trip down memory lane for those who went to The Deftones 'make-up' gig on the 24th. So here we are again, another fortnight, another issue, apologies for so many reviews but hey let's just call it 'the mega review issue'. Enjoy;
Gig Review:
Deftones- June 24th 2001 (praise be to Sam, thedeftones.com and NME)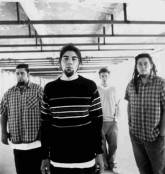 After the 'disappointment' of Limp Bizkit backing out of there mega UK show, Deftones fans were worrying in there masses that they'd have to make travelling plans to see the band on their other European gigs. Well being the classy guys they are, a 'make up' gig was quickly organised and pulled off perfectly. The newly blond Chino Moreno was his usual mind blowing self, a little drunk and a little stoned maybe but definitely playful (his antics included a drinking competition, trying on some knickers and numorous Fred Durst impressions). For anyone who went to see the 'tones music at its best, this was a let down, the sound was bad and they didn't play there best but they're too damn cool to hate. The Deftones, no Limp Bizkit, a decent support band (Lost Prophets) who could want for more?
Set List:
Head Up
Shove It
Damone
Feiteceira
Change
Bored
Korea
Nosebleed
Be Quiet and Drive
Fireal
Around the Fur
Lotion
Engine No.9
7 words
Album of the Month:
The Kerrang album: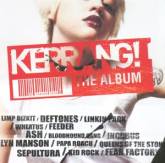 12 tracks from the same band is great but sometimes you want to add a little variety into your listening pleasures. For all dedicated Nu-Metal, rock, punk fans, your favourite groups brought together on one Compact Disc, wow christmas already? Any good then? My god yes. Full of the best e.g Papa Roach, Deftones, QOTSA. Life is Loud? certainly is and this album makes it a hell of alot louder, thanx K!
Other's worth listening too:
Blink 182 - Take off your Pants and Jacket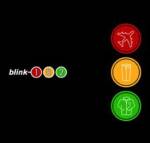 The pranksters of punk are back with a much anticipated album. Some will tell you their success is purely down to popularity rather than music, well I say to that ...........crap. Blink are in a class of there own, a mixture of simplicity, who gives a sh*t lyrics and most of all fun. Oh and the last track rocks, but isn't advised for performing in a school concert, unless you have a death wish or just an expulsion wish.
Muse - Origins of Symetry
Matt Bellamy is a genius. Mixing his talents of piano, vocals and amazing guitar skills as well as being backed up by an excellent bass player and drummer, this album proves that Muse are no more the Radiohead 'copy' once thought of, they're status in rock is set in concrete. The albums kept getting better and this may be the climax we've been expecting, buy it, buy it now.
Weezer - The Green Album
Nerds? Weezer? Nah ................well actually yes ,the epitomy of nerdism. If nerdism is a revolution then Weezer are the Che Guevaras of it all, and my my they do it well. Whilst you're perchasing this album, ponder over their new single Hash Pipe, written whilst they were pissed, you'd never have guessed it (o:
Tool - Lateralus
Ignore the fact that they're Fred Durst's fave band and buy the bloody album for goodness sake.
and a new little bit:
DONT BUY:
Geri 'slapper' Halliwell- Scream if you Wanna go Faster
Anything that spawns from the Spice Girls is doomed by the paracites of pop, this is no exception. Scream If you wanna go faster? Scream if you want her to shut up...............AHHHHHH!
Gigs
A few HUUUUGE gigs coming up soooooo............................................
BOOK TICKETS NOW FOR THE BLINK 182 GIGS IN NOVEMBER AT GLASGOW S.E.C.C, MANCHESTER EVENING NEWS ARENA AND WEMBLEY ARENA !!!!!!!!!!!! check out www.aloud.com or call NME ticketline on: 0870 1 663 663
BOOK TICKETS NOW FOR LINKIN PARK IN SEPTEMBER AT MANCHESTER APOLLO AND LONDON ARENA !!!!!!!!!!!!call NME ticketline on: 0870 1 663 663
-Em